Metals for Communications, Semiconductors and Packages
●Clad metals for package sealing (Ag-Cu alloy/KV, etc.)
【Features】
Various communication devices are used in personal electronic equipment, including mobile equipment such as smartphones and tablet terminals. We have developed a number of package sealing clad metals and hermetic sealing and bonding processes suitable for production of these devices. Our seal rings and lids, pre-clad with brazing materials for sealing, are widely used for their abilities to make such devices smaller and lower.
We offer products which suit the required applications through combining those materials with thermal expansion properties which agree in a wide temperature range with that of ceramic packages and other materials, such as those having low proof stress. We are also able to carry out one-by-one processing of these clad metals, realizing reduction of particle and gas emissions through use of clean-rooms.
【Product image】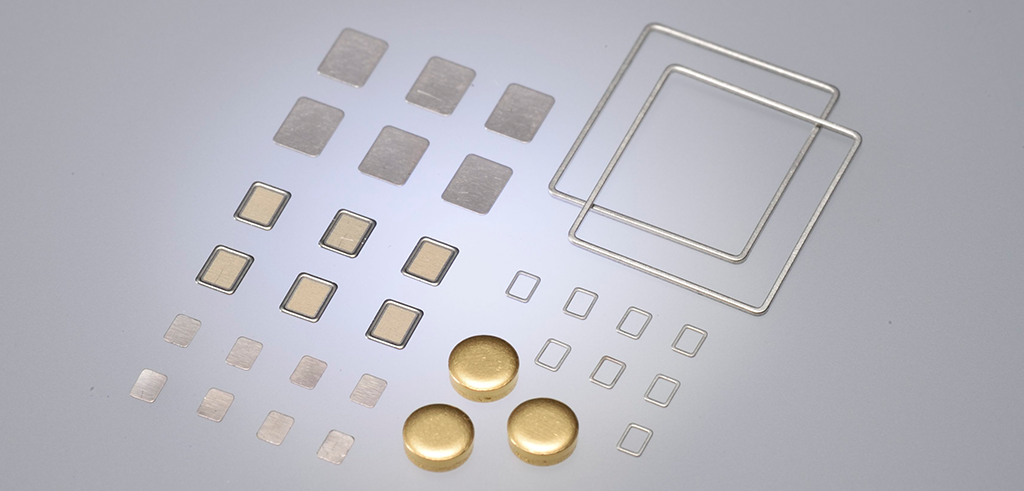 Material samples: seal rings and lids for ceramic packages
[Ni/KV/Ni, BAg-KV clad]
【Applications】
Seal rings and lids for ceramic packages

【Materials】
Seal rings: BK
Lids: NKN-B72, NKC-72, NKN-SAG
【Technology】
・Punching/Drawing press
・Plating (electrolytic/electroless plating)
・Laser trimming
・Brazing
・Product evaluation/Analysis
【Usage example】
We can also provide cavity type lids.