Materials Technologies
●Alloy materials, clad metals, Copper materials
Capitalizing on our accumulated experience and ongoing research, we utilize an integrated production system to manufacture coil and sheet materials that meet our customers' needs for use as basic materials in metal components. We manufacture products which deliver the quality and precision demanded by our customers' applications, using a number of techniques including strict composition control over steel ingots, internal quality inspection of slabs, and automated inspection of the entire sheet surface or, in the case of cold rolling, automatic thickness control.
We can satisfy customers' specific needs by meeting requirements for shapes and dimensions, and exploiting the combination of various materials.
【Applications】
Batteries
Automobiles
Communication devices, etc.
Alloy sheet and coil
Coil and sheet manufacturing process
Raw materials are melted into an alloy in combination with the required additives. Then, the alloy undergoes hot rolling, cold rolling and heat treatment, and is finished to the required properties and dimensions.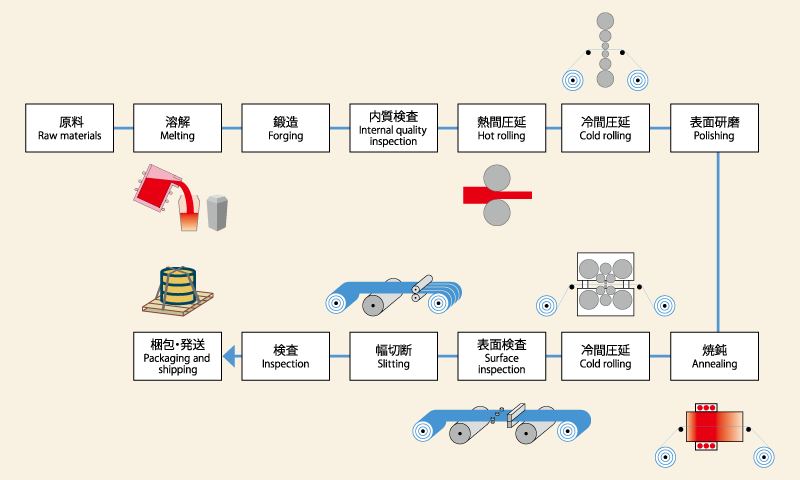 Clad metals
Clad metals manufacturing process
Production line developed to ensure high-quality clad metals
Surface-polished alloy coils are bonded by pressure weld rolling, then annealed for increased bonding strength.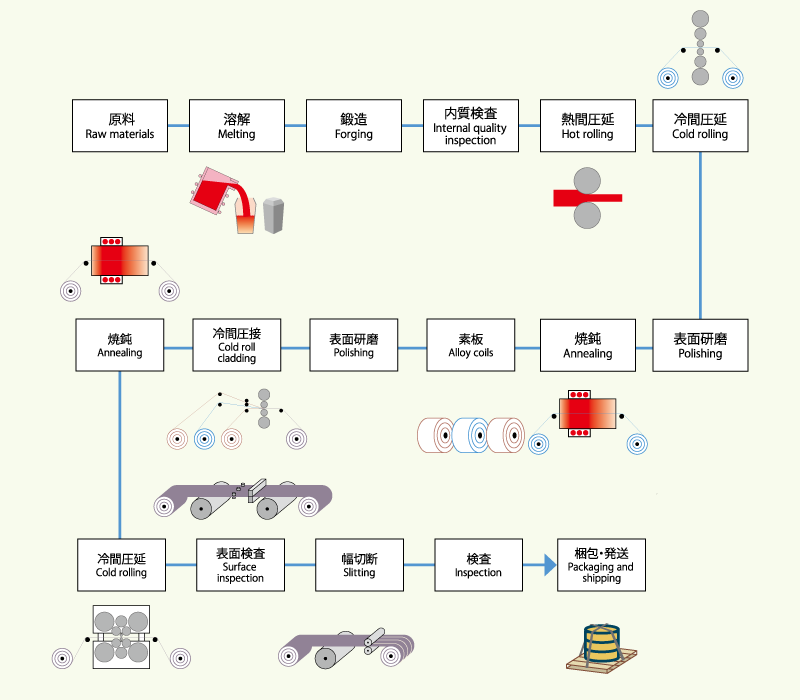 Copper materials
Process of copper strips, bars, rods, formed bars, and hollow conductors
We offer a wide range of products from formed bars with basic cross-section shapes, such as rectangles and circles, to those with complex cross-section shapes that are effective in reducing customer processing costs.