Surface Treatment Technologies
●Plating (Electrolytic and Electroless plating)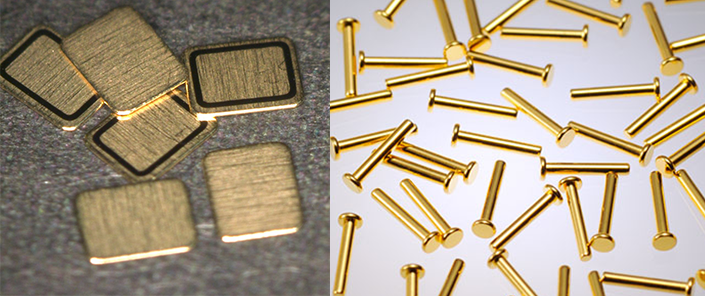 We are able to respond to a wide variety of needs with our plating technologies, such as Au plating for contact materials and contacts, environmentally-friendly lead-free solder plating, and electroless plating for ceramics and metals.
We have also established an Au plating technology to plate large quantities of fine Ni-P particles having large specific surface area, which has been deemed difficult. We therefore offer technologies that are essential to improve the performance and air tightness of electronic components.
【Applications】
・Lead pins for MPU
・Lead pins for electronic components
・Insulating substrates
・Printed circuit boards, etc.
Example of mass production
Base metals
Kinds of plating materials / thickness
Materials
Shapes
Size

・Pure Ni
・Fe-Ni-Co alloy, Fe-Ni alloys
・Cu, and Cu alloys
・Stainless Steels
・Al and Al alloys

Plate
Under 0.06〜0.8t×10(Barrelplating)
Under 10×300(Rackplating)

・Electrolytic Ni plating (2〜5μm)
・Electrolytic Au plating (0.01〜0.5μm)
・Electroless Au plating (5〜30nm)

Pin
Φ0.3〜0.5 X1〜3L

Comparison between our electroless plating and existing methods
Existing electroless Ni-P plating using Pd catalyst (Catalytic plating) our electroless plating (New method that prevents adsorption of Pd catalyst between patterns)
* Pd catalyst is partially adsorbed between patterns, causing deposits.
* Our electroless plating with high reliability allows no deposits or short circuit between circuits.